Scott Smith is ready to spread his wings and leave the nest. He joins an impressive list of other JAM Fund elites who graduated from the cyclocross development program to move onto the pro ranks including Stephen Hyde (Cannondale), Ellen Noble (Trek), Anthony Clark (Squid) and Jeremy Durrin (Neon Velo).
Smith has put in an enormous amount of blood, sweat and tears into JAM Fund and the cycling community, which earns him high praise from JAM Coach and Co-founder Alec Donahue.
"Scott has put more shovel time in than any JAM rider," Donahue said. "By that I mean all the jobs we have in the program that require you to break your back lugging hundreds of pounds of gear, set up courses in the dark in sub-zero conditions, pound in stakes for events, clear trails, anything that is probably going to make you a worse bike racer. But you still do it because it was to build the cycling community, and I asked him to do it. You know jobs that make you want to crack a cold one a.k.a. seltzer, (that goes out to Polar Seltzer, you know you want to sponsor JAM). So that's my overall memory of Scott. He put his back into being a member of the team. Yeah, he's a bit of a punk, but he has earned it."
"I've grown as a rider and learned the ways of cyclocross riding with Powers, Hyde, Jack, Ellen and Anthony," Smith said.
Smith's teammate Jack Kisseberth is also graduating from JAM Fund and moving to Garneau Easton Cyclocross alongside Canadian National Champion Michael Van Den Ham. Rhys May is starting her own team and will mentor junior women (more about that coming soon).
"Ideally we graduate from JAM Fund and go to a pro team," Smith said. " But now there are only one-person teams, so there's nowhere to graduate to. Look at state of the sport right now. Where are you going to go? Cannondale? Maxxis-Shimano? Donnelly? Squid? I'm trying to think of teams that have multiple riders."
Smith would be stoked to race for an established team but has already started working on plan B.
"The direction I'm going right now is to start my own team and call it The Dirt League, " he said. "The whole idea is to get kids like me when I was 14 and show them cycling and what they can do with their skills."
Smith grew up riding BMX at his local skatepark in Agawam, Massachusetts. Inspired by what he learned from his JAM Fund mentors, Smith is passionate about giving back to the sport. He wants to provide kids an opportunity that can change their lives and keep them out of trouble.
"A lot of my friends got addicted to drugs, and a couple made it out," Smith said. "I don't want to see kids go that way. I was lucky when I was young. I ran into some older guys who were into racing. I made fun of them at first but then they got me into mountain biking and then from there I got into cross. There needs to be more focus on bringing people outside the sport in. BMX'ers have skills. With a little fitness they'll be really good. The skatepark is a good place to start. High schools are getting more involved with cycling. Something like that is going to make a big impact and grow the sport huge. So that's The Dirt League's goal eventually."
Smith started out with JAM fund in 2013 as a ragtag Cat 3 rider. That first year, he got a few team jerseys and a Rapha Focus bike frame that he built up himself.
Jeremy Powers, one of the co-founders and the "J" in JAM Fund, remembers when Smith called wanting to join the program.
"Scott left a message on my voicemail and said, 'I don't want to miss this opportunity to work with you guys'" Powers recalls. "That ambition told me everything I needed to know-- that his journey would be one we wanted to take on. Needless to say, I'm happy we did."
Smith raced hard his first year with JAM and by the end of the 2013 cross season, he upgraded to Cat 2. Donahue told Smith if he could find a way to get to Boulder, Colorado he would have a place to stay to race at Cyclocross National Championships.
"Thom Parsons of Dirtwire TV, Lesli Cohen and I drove for 30 hours in Lesli's Chevy pick-up truck," Smith explained. "We hauled a trailer with all the JAM stuff and we only stopped for food but not to sleep."
Smith made it to the startline for the U23 race, his first time ever at a national championship.
"The whole crowd and atmosphere was so much bigger than I had ever seen before and it freaked me out," Smith said. "I went as hard as I could, and on the first lap I looked down and my pedal sheared off at the spindle. There was only a metal rod sticking out. I needed a new pedal. I didn't have a pit bike and did not finish. I was so upset. It was my first and only DNF that season."
Things got better for Smith in fall 2014. He was promoted to JAM Fund's elite team and invited to China for his first-ever UCI race.
"The deal was if you wanted them to pay for your $1200 plane ticket, you had to do a road race along with the cross race," Smith said. "I wanted them to pay for the whole ticket, so I decided to do the road race, which was only about 50 miles long and pretty much flat until the last 15 minutes where there was a climb to the finish. I was in a massive field of Chinese riders like a swarm of bees. We were on a four-lane highway until we took an exit-- the only turn in the race-- and then we went up hill. The other Americans and I had no idea what was going on. We had translators but the instructions were, 'do not win but do not lag behind.' I guess what they meant was ride the pack. I wondered, are we going to die? What happens if we lag behind? That whole trip was nuts. They bused us everywhere and the bus rides were really long. I did a week there and that's where I met Ryan Trebon, Carl Decker and Molly Cameron. Everyone stayed in the same hotel. That was my first UCI cyclocross race ever and it was a C1. I got 19th and made some decent prize money. So overall, it was a pretty good trip."
Thinking back over his time with JAM Fund, Smith says that China trip was one of his favorites.
"They had grandstands at the start/finish and they bused people in to watch," Smith said. "I'm not sure if they were fans or if they were forced to go. But the announcer would say my name and then everyone would shout, 'Yay Scott Smith!' The people treated us like rock stars. We would roll up and they would take pictures. There were tons of fans that adored us."
Smith reached another pinnacle in 2014. After the long trip in China for his first-ever UCI race, Smith returned to the states and earned his first UCI point.
"It was a small race called Baystate Cyclocross in Sterling, Massachusetts where I finished 9th and got one point," Smith said. "I started on the last row and there was a foot of snow on the course. They plowed it so we could ride it and I got a good start and started plucking off people. Adam Myerson said I flew by him so fast about half way through the race, he wasn't sure it was me. It was a compliment and I felt good about that."
The following week, Smith pulled off another top ten, getting 8th and more UCI points at NBX Grand Prix in Warwick, Rhode Island. He was in top form heading into Cyclocross Nationals in Austin in January 2015. But then, a stroke of bad luck ruined another one of Smith's national competitions.
"When we got to Austin, I was training on the bike path because I hate training inside," Smith said. "I wasn't afraid of the rain. I actually was on the bike path, which was embarrassing, and I rode over wet plywood because they were doing construction, and there was a descent into a left hand corner. I grabbed my front brake. I didn't slam on the brake. I knew it was wet. But my front wheel locked up and sent me skidding into a wall made of 2 x 4's at 20-miles-per-hour and the wall just stopped me. I was lying on the bike path and had to call Al. I was crying my eyes out when he picked me up in the van. I wasn't crying from the pain. I was crying because of what it meant. I went to urgent care and had X-rays of my shoulder and they said I tore my AC joint. I was in a sling all week. I couldn't race. It was a month-and-a-half long road trip for nothing. Two in a row: no finish. It sucked."
The fall 2015 cyclocross season saw some big changes on the JAM/NCC race team. Kisseberth came on board to join Smith on the elite team after Hyde and Clark left for the pro ranks. Smith was still racing in the U23 category, and this year's goal was to qualify for Worlds. Smith had a strong start in his second full year as an elite racer, getting a top-five at Nittany and winning the U23 at Trek Cup. Then he landed his first UCI podium in third place at Supercross Cup, ahead of quality national-level riders. The following weekend, Smith says he was feeling strong enough to win NBX.
"I had really good legs but dropped my chain right at the startline and I was last," Smith said. "So I had to get off the bike and put my chain on, and then I rode back up to fifth. It was an impressive ride. I felt like I could have won. The only saving grace was Anthony won. Anthony and I were in the same leaders jerseys hugging each other at the finish line. It's funny because you can see the grease on my hands."
As 2015 was turning out to be Smith's best cyclocross season, he was determined to have a good race at the 2016 Cyclocross National Championships in Asheville, North Carolina. He refused to settle for another DNF.
"I had a crazy bad start for the first half of race and was riding in 15th or high teens," Smith said. "Everyone wrote me off, and then I rode back to 4th and was psyched."
Smith's fourth-place national's finish earned him a spot on Team USA for the U23 World Cup in Hoogerheide and World Championships in Zolder.
"That was huge! Super cool!" Smith said. "That was my first trip ever to Europe. Hyde and I stayed after the World Championships and raced some more. I got to race Sven and Wout and Hyde. It was a pretty awesome experience. The races were hard, no joke. The whole environment is different from in the U.S. I had people come up to shake my hand and take pictures with me. I was a celebrity, even though I wasn't very good. In Europe, everyone follows cyclocross and has cards from every rider."
With the exciting start to 2016-- a fourth place at nationals and racing in Europe-- Smith's year was not without challenges. He spent three weeks in Florida for base training, and shortly after returning home to Massachusetts, he started having knee problems.
"Everything fell apart. I couldn't pedal without pain," he said. "I could barely walk up the stairs. I was limping. I had no idea what I did. That was around April and I had to go to Belgium again for two months in the summer to race on a new road team. They were sending Jack and I for May and June, and here I am in April with a bum knee sitting and home doing nothing."
The pain persisted, and he went back to Belgium anyway.
"Unfortunately it didn't give us time to figure out the knee injury," Smith said. "I rested the leg until the pain went away and then trained until it hurt again. I couldn't do base, I could only do one and a half hour rides. I flew to Belgium with no training in my legs and had to do kermises with a new team. A kermis is a three-hour all-out road race with tight corners and an insane amount of turns. You corner at zero-miles-an-hour and then rip back up to 30-miles-an-hour to another corner and do that for three hours. I got dropped in more than half of them. And then of course, my knee started to kill me. That was a tough trip."
Smith returned home on July 1 and was selected to race at the mid-September World Cup in Las Vegas, the official opening day of the fall cyclocross season.
"That was cool to do and I'm glad I did it, but I didn't get a good result," he said. "I think I got lapped, not surprising, seeing the build up to the year. I couldn't expect more than that. You cannot be drained and go to a World Cup. I learned that the hard way."
No doubt, 2016 was Smith's roughest year on the bike.
"I was out of the top 20 most of the season," he said. "I only got a 9th and 10th place in two UCI races. It was a brutal year. No training. And just as I got some good legs in October, something cut me down again. Either the knee flared up again or just busy working. I wasn't making prize money, so I had to work. Standing up at the bike shop all day was a formula for disaster."
The 2017 Cyclocross National Championships were to be held in JAM Fund's home turf in nearby Hartford, Connecticut. The race course was less than an hour from Smith's house. Weeks before the event, Smith and Coach Al talked about Smith skipping it. But Smith is a fighter and determined not to quit even with the cards stacked high against him.
"I didn't want to skip it," Smith said. "I drove all over the country dealing with bad luck at nationals, so I could at least do the one down the street. In the weeks leading up to the race, I would go to bike shop and be on my feet all day and then go home and do rides at night. I hate the trainer, but I suffered through it. My threshold was a whole zone lower, no joke. On the trainer it was hard to even get to tempo. I went to nationals with no expectations, and I made the lead lap. It was a really technical course, super icy and gnarly, so that helped a ton."
Smith finished 13th at Hartford ahead of some big names in cyclocross like Anthony Clark, Danny Summerhill and Travis Livermon.
"I was really satisfied with that coming off of a really bad season of suffering and pain. The mental side of it is a deadly game. You can't beat yourself up. But at the same time, you have to be good at goal setting and not looking at results. You have to look at progress and the process of figuring it out. If you just look at results you're going to beat yourself into the ground. I learned that just because I have bad results, I'm not going to quit racing. I'm going to fight back and put in the work and see the right people to fix the issues and get back on track. That year kinda happened to me, but I'm here. There's nothing I can do about it."
For Kisseberth, Hartford was a real breakout ride. He ended up just off the podium in fourth place. Donahue is proud of both of them and says Smith has always been a true professional.
"The guy has dealt with disappointment in a very professional mature way," Donahue said. "His relationship with Jack has been the ideal for all team dynamics. Even when he had a bad weekend they supported each other in a way very few elite athletes could possibly do."
After Hartford Nationals, Smith was determined to fix his knee problem. He went to a physical therapist three days a week for intensive muscle work. She figured out what was wrong.
"What ended up happening was my left hip gave out and was too weak, so it couldn't track my knee straight," Smith said. "So my knee was wobbling through the pedal stroke and grinding bones, which made my quads super tight by pulling on my knee. So Kirsten did a ton of dry needling, which is where you stick a needle into the muscle and get the muscle to spasm and then let it rest and then do it again. And it was the most insane feeling you could ever get. It was only on my left leg and it felt like I had run a marathon. I would limp because my leg was so sore from dry needling. And then we'd do it on my hip. We got the muscle to normal and then strengthened my hip and eventually got my hip strong enough to hold my knee for hours in a day. That took a couple months."
By June, Smith healed and returned to Belgium for a month with other members of the JAM Fund team.
"I had a much better experience," he said. "I was doing big hours with no pain and getting excited for cross season. I got out of my bummed-out mental state and hit the reset button."
The 2017 cyclocross season would be Smith's last with JAM/NCC.
"I lowered my expectations and went in relaxed and not stressed about results," Smith said. "At first, it went slowly. In Rochester, I immediately smashed my knee on my stem and had to leap off the bike. I hit my patella and it sent me down and out for a week. We did more dry needling and quad workouts but mostly rest and ice. So that took me out for most of September. But I started training again and went into Gloucester toward the second half of season and started getting in the top 10 again, and it felt really good to be back."
After Gloucester, Smith went to Canada and landed on the podium both days at the Silver Goose. Kisseberth won both days. The following weekend, Smith won the second day at HPCX.
"I felt like a real pro for once in my life," he said. "It was a small race, but I was still proud of myself. It was confirmation that I could be good one day if I put in training without getting injured. That race was a mudfest and required a lot of bike handling and some power because it was sloggy. But I do really well in those conditions."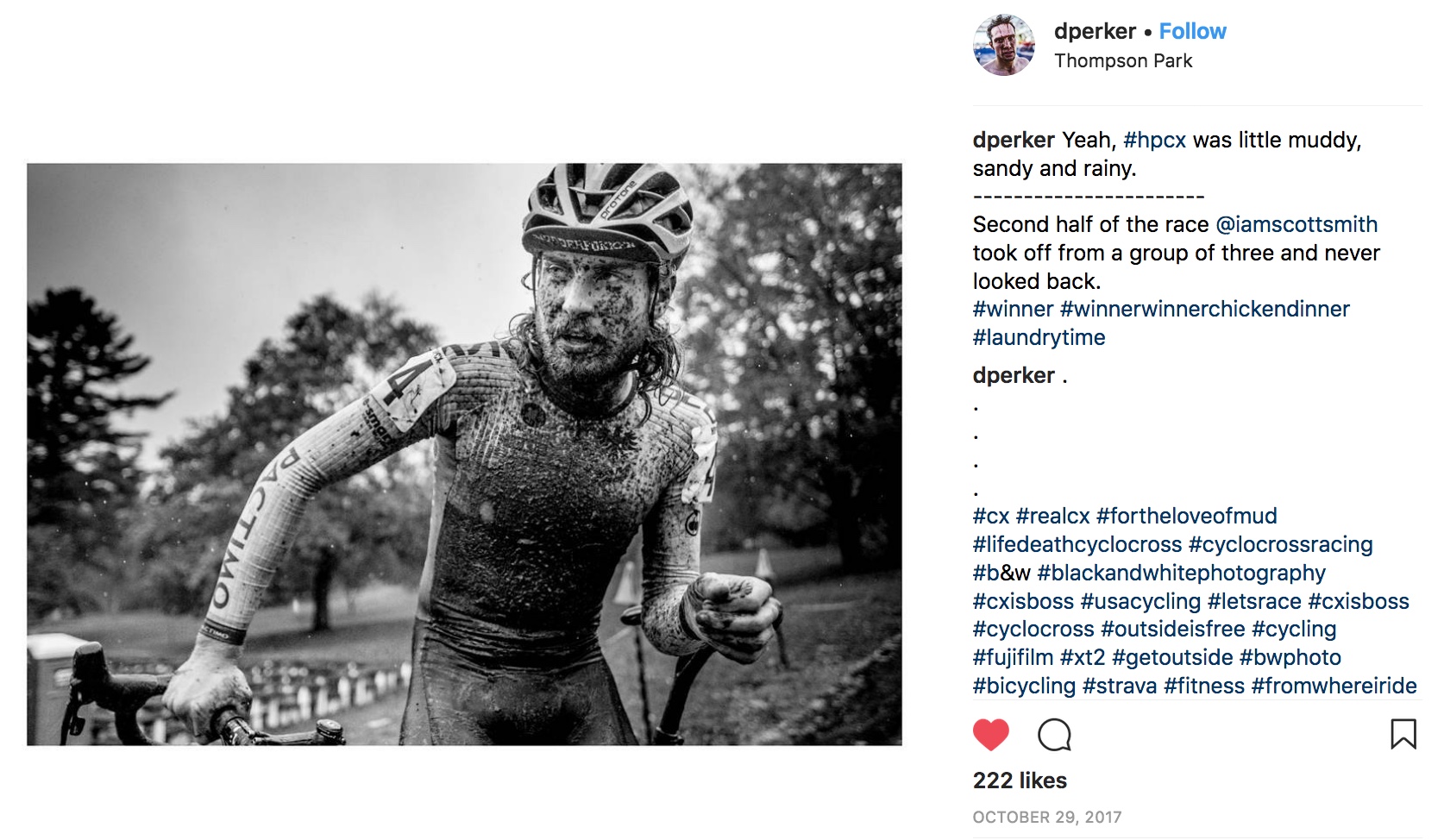 Looking calm and cool, Smith won at HPCX, one of the highlights of his final season with JAM/NCC. For podium shot, see cover photo at top.
The team took a few weeks off and started to make its way west for the national championships in Reno. On the way, Smith and the JAM Fund crew stopped in Tulsa, Oklahoma for Ruts n' Guts.
"I never do well at the first race after a break," Smith said. "Saturday was a C1 and I got 19th. The next day I did much better and got 7th with the same field and all the big guys were there. I beat Driscoll and Kaiser and it sucked because it wasn't on the C1 day. I know myself more and more now and what I need to do to get ready for a race."
The following week, Smith drove with the JAM Fund crew to Dallas and Albuquerque to train in the high desert to prepare for Reno. Joining Smith were Jeremy Powers, Coach Al and Ian Gielar, who rides for JAM/NCC and also works as the pit crew for the elite riders. They stayed with HiFi wheel guru Robbie Douangpanya.
"It was the four amigos, "Smith said. "We stayed at Robbie's house. He's insanely nice and very hospitable. He literally took the shirt off his back and gave it to us. The most giving, caring people I've ever met. We stayed at his house for about a month. All we did was go out training, eat a lot of food and rest. I was feeling strong."
Around Christmas time, Smith got sick as did other people in the house. He took antibiotics and went on some hard rides to flush out his system. Still, he feels it impacted his race in Reno. No longer U23, Smith lined up with the elite men this time.
"I didn't have a whole hour in me," Smith said. "I faded hard. I think it was because I was not going on big rides and having the antibiotics kill everything in me. I finished 16th. Not that happy with the result but happy with the season, and I'm not going to let one race bum me out. I'm sure I'll have a lot more nationals to do, so I'm not going to let a bad one upset me too much. It's not like I'm 4th off the podium. I had a bad day. Nothing really went wrong except I didn't have a good ride."
Smith is a skilled rider and known for his ability to jump large obstacles, hop onto picnic tables and balance on skinny curbs. He's also skilled at producing videos, such as the Jammin' episodes he put together with teammates Gielar and Kisseberth this past season. For his Dirt League though, Smith is going to be more edgy.
"I don't want to do run-of-the-mill race recaps or a vlog," Smith said. "I want to add a BMX-style edit to a video and bring a breath of fresh air to the cycling community. I want to be an influence to someone who is 16 and is not sure they want to hang out with 40-year-olds in spandex. A video like that might attract them to the sport."
Smith is determined.
"As far as running a program my size, you have to be sustainable. So going into this year, if I get no sponsors and maybe have to borrow a bike, I could still go to all the races. You see that happen with people that quit their job and go fully into cycling, and if they make it, they make it. Dude, that is so much pressure. You would have to beat Hyde every weekend and get on Cannondale. That's a huge step. I work part time in the bike shop all year and that makes me money to pay rent and go to races. You have to make yourself sustainable without sponsors until you're getting the results you need to fund yourself."
Smith leaves the JAM Fund with great memories and a lot of lessons learned.
"Never quit," he said. "There's been a lot of people that came through the team and stopped racing or just fizzled out, but I've seen that if you keep trying and keep your head down and keep fighting for it, you'll get there someday. That wasn't something that they taught me, but something that I've seen happen. So that's the biggest lesson I take away from the JAM Fund."
Coach Donahue likens the exit of Smith and Kisseberth to the Hotel California.
"You can check out any time you like, but you can never leave," Donahue jokes. "But JAM reservations, unlike the hotel, have a bit less negative connotation. We'll still be directly involved in both Jack and Scott's development in the sport as long as it's a good fit for them. I'm always here for former riders, that's the truth. The people we pick for the program are engaging and motivated, and their post-JAM projects give me energy and motivation to keep JAM moving forward. Also, neither Scott nor Jack have taught me how to wheelie, so they owe me."
With Smith and Kisseberth gone, there may be room for new elite riders on the team.
"I'm always looking for the next JAM rider, but we have to manage direct team size versus resources," Donahue said. "If Jeremy or I are out there and we find the next Scott or Jack we can make room. But at capacity, a rider we bring on has to be really willing to be 100 percent into becoming a top level rider."
"There are still plenty of riders in the area who can benefit from JAM," Powers said. "It may take a little time to find and develop that talent, but we certainly have a great pool of riders here. And I'll say we don't always need to have someone in the pipeline on the fast track to being the next big star. JAM fund will be here cranking along, doing our thing for many years to come."
Story by JAM Fund Media Coordinator Vicky Sama at jamcycling@gmail.com.