The JAM Fund has had an action-packed year full of racing, travel at home and abroad, fundraising and volunteering for a variety of events. Several team riders had the chance to race, train and tour around Europe last spring and in summer. We had a great turnout at our annual Grand Fundo and awarded a record number of 33 grants to young cyclists. During the fall race season, at least three team riders earned their first-ever UCI points while others moved up the ranks from the amateur to the elite fields. The JAM Fam grew larger this year adding more riders to the development team. And the love didn't stop there. Four JAM Fund teammates are now engaged. Our founders Jeremy Powers, Coach Al Donahue and Mukunda Feldman are always there making it all happen for JAM Fund. It's been a wonderful year made possible by our generous partners like Focus Bikes, SRAM, Zipp, Kask, Fi'zi:k, Crank Bros, Pactimo, Park Tool, Nuun, Clif, Northampton Cycling Club, Cycle-Smart, WD-40 Bike, BikeReg, Tart Baking Co., Taylor Rental, Family Bike and CEP. And of course we owe gratitude to all our cyclocross fans, riders and their families who show up to cheer us on!
We wish you all the best as we approach the New Year, and with that, here's a look at some of our team highlights from 2017.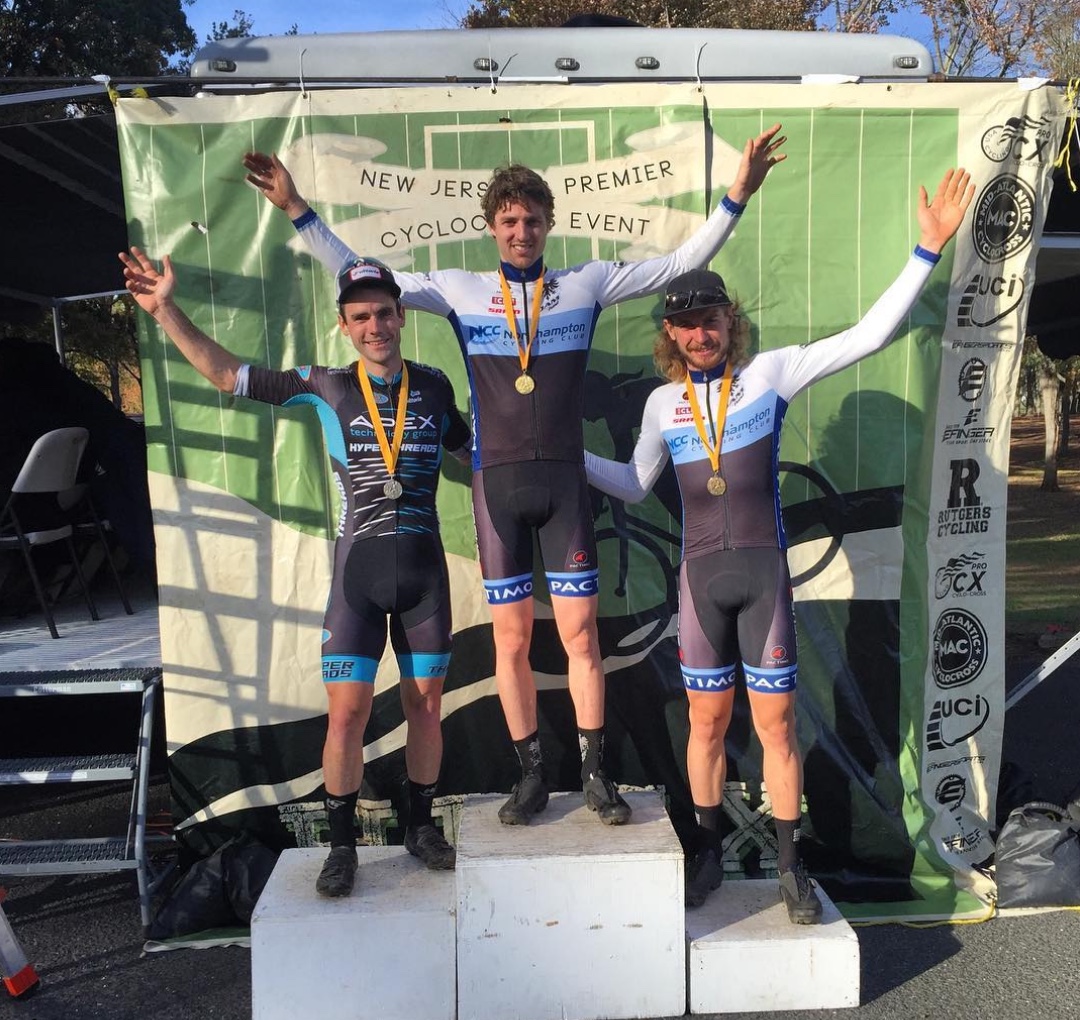 competed in 22 cyclocross races this season and finished 11 times on the podium. He had four wins including HPCX day one (pictured). He is 8th in the USA Pro Cx ranking and 58th in UCI ranking. He finished 9th at Pan Am Championships against some of the best in the world. At least once in a race this season, he has beaten current U.S. Cyclocross National Champion Stephen Hyde, Tobin Ortenblad and former U.S. Cyclocross National Champion Jeremy Powers. One of Kisseberth's early year highlights was racing at the Hoogerheide World Cup for Team USA.
In his final year with the JAM Fund, Scott Smith competed in 22 races this cyclocross season, getting five podium finishes including a win at HPCX on day two. He is 17th in the USA Cycling Pro Cx ranking. Smith has been mentoring and coaching other members of the JAM/NCC team by sharing his super secrets to successful bunny hopping barriers.
earned her first UCI point ever at KMC Cross in September. Since then, she continued to rack in UCI points. She competed in 22 races with four top-ten finishes with three podium finishes including a win at Suckerbrook Cross. She is 34th in the USA Cycling Pro Cx ranking. She is in Europe for three weeks for her first run at Belgium cross racing. Her highlight off the bike is her engagement to JAM Fund teammate Tim Willis.
says this is one of his best years on and off the bike. He competed in 21 races this year, finishing in the top twenty. That's a significant improvement over last year when he was finishing in the 40s at the UCI races. Highlights of his race season include getting 3rd at Night Weasels Cometh (pictured) and 3rd at Hartford Riverfront Cyclocross. He got engaged to teammate Rhy May just two weeks into cross season. Ah, love.
is having a great turnaround this year after a year marred by injury. In his second season with JAM Fund's development team, Gielar earned his first UCI Cx point ever at Supercross Cup in November. He competed in 17 races this year (up from six last year) and got six top-ten finishes including 3rd at Ruts and Guts. To top that, he was the mechanic for JAM Fund's elite team at UCI races. In summer, Gielar traveled and rode his bike in Spain. Photo by Sam Rosenholtz.
started with a win at Hartford Riverfront Cyclocross and then got 2nd at Suckerbrook and 3rd at Midnight Rider. He competed in twelve races landing on the podium three times. One of his strongest races was on day one at Northampton International where he finished in the top twenty. He spent three weeks training in Belgium in June with teammates Jack, Scott, Chris Niesen and Coach Al.
competed in 22 races, getting six podium finishes include two wins, one at Northampton International and the other at Supercross Cup in the men's Cat 3. After earning the needed upgrade points, Hewitt moved up the ranks and raced his first UCI elite men's race at the NBX Gran Prix in December. Photo by Daghan Perker.
represented JAM Fund Development Team in the Category 3 races all season, competing at 22 races and getting three podium finishes. He won Hartford Riverfront Cyclocross in the men's 3/4 and is enthusiastically earning points toward his upgrade. Photo by Angelica Dixon.
In his first full season as a Cat 2, Kale Wenczel competed in 18 races, getting two podiums: 2nd at Uncle Sam GP and 3rd at Cheshire Cx. He had respectable finishes at Rochester, Gloucester and NBX against the nation's best riders.
raced in 13 cyclocross races this season and finished every one. No DNF's for Tim! He got 2nd at Cheshire Cross, but one of other highlights is his engagement to Natalie Tapias and helping support her as she races in Europe this winter. Photo by Daghan Perker.
competes in the junior 17-18 and men's 3/4 categories. He lined up for 17 races this season and finished every one of them. He got four podiums including winning Cider Cross. One of his best performances was at Northampton International where he finished 12th and 11th out of a combined field of more than 80 junior and masters riders.